A new B.C.-developed technology is mimicking human skin and expanding the possibilities for people with prosthetics as well as human-robot interactions.
The invention consists of a thin, stretchy layer of silicone rubber filled with enough sensory points to make it capable of delicate tasks. Placed over the fingertips of a prosthetic hand, the so-called sensor skin suddenly makes it possible to hold an egg, champagne flute or piece of fruit.
Its creators say the dexterity and sensitivity of the skin could be a game changer for people who use prosthetic limbs and for increasing the safety of relationships between robots and humans.
"Our sensor uses weak electric fields to sense objects, even at a distance, much as touchscreens do. But unlike touchscreens, this sensor is supple and can detect forces into and along its surface," said senior study author Dr. John Madden, an engineering professor at the University of British Columbia, in a news release.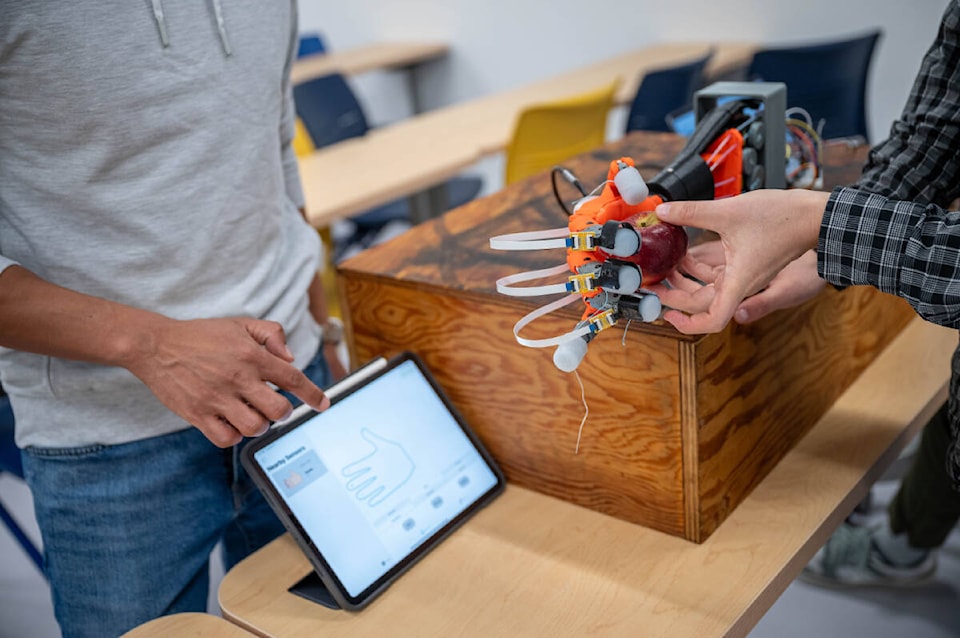 Made primarily of silicone rubber, the skin is similar to what is used for special effects in movies. It can buckle and wrinkle, giving it a realistic appearance, and is soft like human skin too. It can also be scaled up easily to cover far larger areas than just a hand.
It's no replacement yet, though. Human skin has a hundred times more sensing points in a single finger tip than the sensor skin, according to Madden. It's those that allow people to do fine motor activities, such as lighting a match or threading a needle. Human skin also allows people to detect heat and damage, Madden said.
"…there is a need for robots to be smarter about which sensors to pay attention to and how to respond."
Madden and a team of UBC researchers collaborated on the invention with Frontier Robotics, Honda's research institute. Going forward, they plan to experiment with how well the sensor skin can move around delicate objects, instead of just safely grasping them.
READ ALSO: The future is now: B.C. restaurant employs robot server to boost business
READ ALSO: UBC students design 'Instagram worthy' carbon-minimal building