The poetry in a diary kept by a Mission veteran during his time in a German POW camp provides insight into the experience of captured Canadians during the Second World War.
Bert B. Moody was one of nearly 5,000 Canadians of the 2nd Infantry Division who took part in "Operation Jubilee" along the coast of France in Aug. 19, 1942 – commonly known as the Dieppe Raid.
The mission was a military disaster; no other Canadian battalion would suffer greater casualties in a single day during the war. Within eight hours there were 3,367 Canadian casualties, including 916 dead and 1,946 taken prisoner.
Moody fought in the Queen's Own Cameron Highlanders, which saw fierce combat. Out of the unit's 503 men, 346 were casualties, including 76 killed. Moody was wounded three times in the fighting.
His diary logged brief descriptions alongside significant dates in his service, from his enlistment in Winnipeg in 1939, arrival in England, inspection by the King and Queen of England, combat, eventual capture, and the arrival at the POW camp called Stalag VIIIB.
The German guards cut out most of the dairy's logs from his time in captivity. The last entries describe Canadian soldiers being tied together with rope as punishment, then having the rope "replaced by chains."
What remains in the diary is a collection of poems written during his time in captivity, reflecting on the combat at Dieppe, and the loss, hardships and feelings suffered by the soldiers afterwards.
…
Dieppe, page 3
It was the 18th day of August in 1942
We sailed away from England, no man knew where to
We had received no orders, No friends to see us leave
The second Canadian Division, with the blue patch on the sleeve
Early the next morning, when everything was still
We saw those tracer bullets, coming at us from the hill
But we kept right on a sailing, and no man will forget
The morning that we landed, on the beach there at Dieppe
The enemy were waiting, and had taken up their post,
We met a hail of bullets, as we landed on the coast,
But every man there landed – at least he tried,
Though many there were wounded, and many more had died.
It was early in the morning, when we started in to fight
The mortar bombs came at us, from the front and left and right,
They shelled us from the cliffs, and bombed us from the air,
But the second Canadian division were not so easy to scare.
We fought them for eight hours, from 6 A.M. till two,
Our losses were terrific, but there was nothing we could do,
The navy came to help us, but their boats they could not land,
So we had to surrender at Dieppe there on the sand.
What is left of us are prisoners, beneath a foreign flag,
Here in the heart of Germany, in this camp they call Stalag,
Many of our comrades fell, but we never will forget,
They gave their lives fighting, in the battle of Dieppe,
When this war is over, and once again we're free,
To our homeland we'll be sailing, to a land of liberty,
Though many have a battle scar, but no man will forget,
The morning that we landed, on the French coast at Dieppe.
…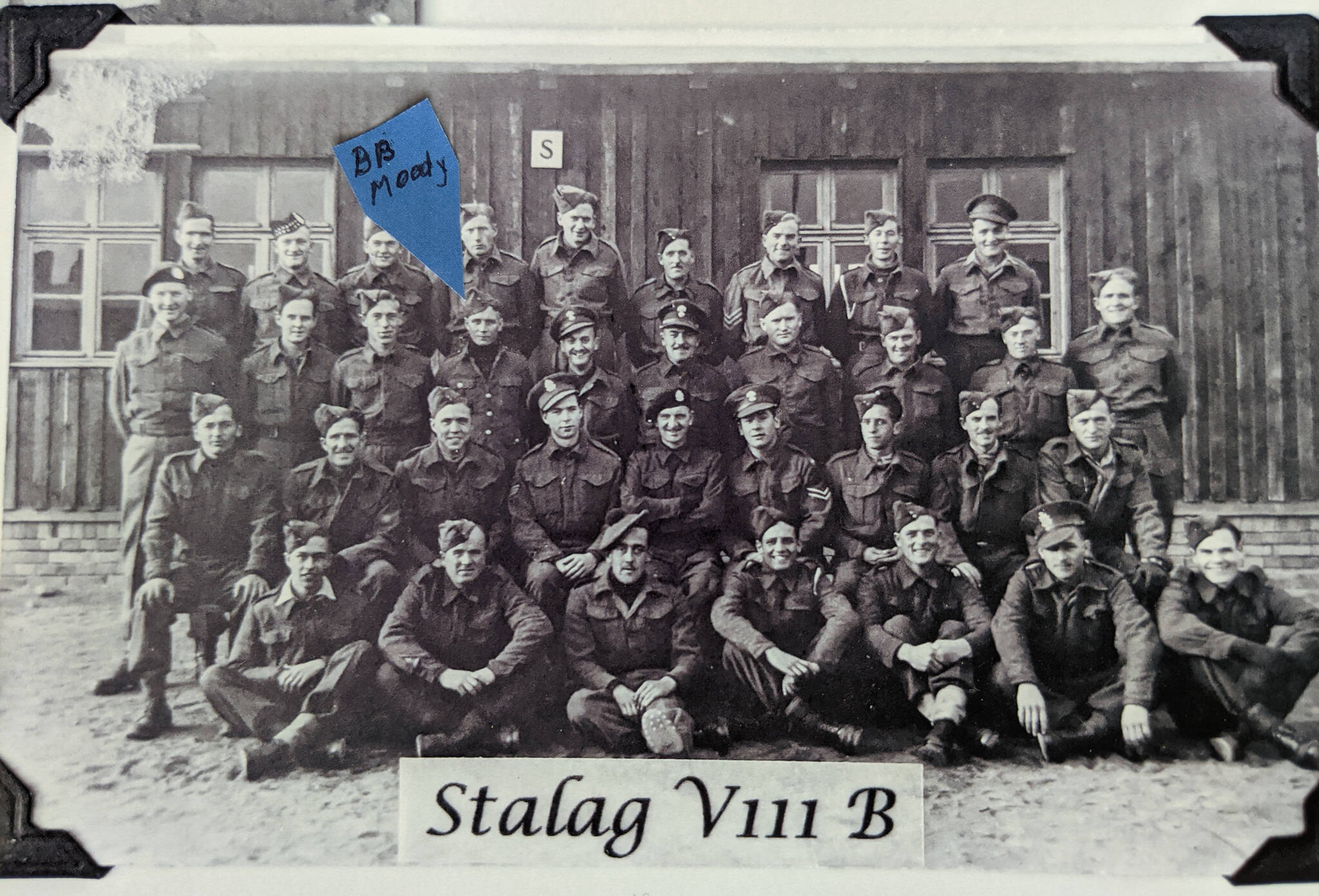 Courage, page 4
It's easy to be nice boys, when everything's Okay,
It's easy to be cheerful when you're having things your way,
But can you hold your head up and take it on the chin,
When your hearts nearly breaking, and you feel like giving in.
It was easy back in England, amongst the friends and folks.
But now you miss the friendly hand the joys the songs the jokes
The road ahead is stern boys unless you're strong in mind
You'll find it won't be long before you're lagging far behind.
You've got to climb the hill boys. It's no use turning back
There's only one way home and that is off the track
Remember you are British when you reach the crest
You'll see a valley cool and green dear England at its best.
You know there is a saying sunshine follows rain
And sure enough you'll realize that joy will follow pain,
Let courage be your password, make fortitude your guide
And then instead of grumbling
Remember those who died.
Simple Soldier Boy, page 7
I knew a simple soldier boy
Who grinned at life in empty joy
Slept soundly through the lonesome dark
And whistled gaily as a lark.
In winter trenches, cowed and glum
With crumps and lice, and lack of rum.
He got a bullet thru the brain.
No one heard of him again
Ye crowds who watch with kindling eye
When soldier lads go marching by
Sneak home and pray
You'll never know
The hell where youth and laughter go.
…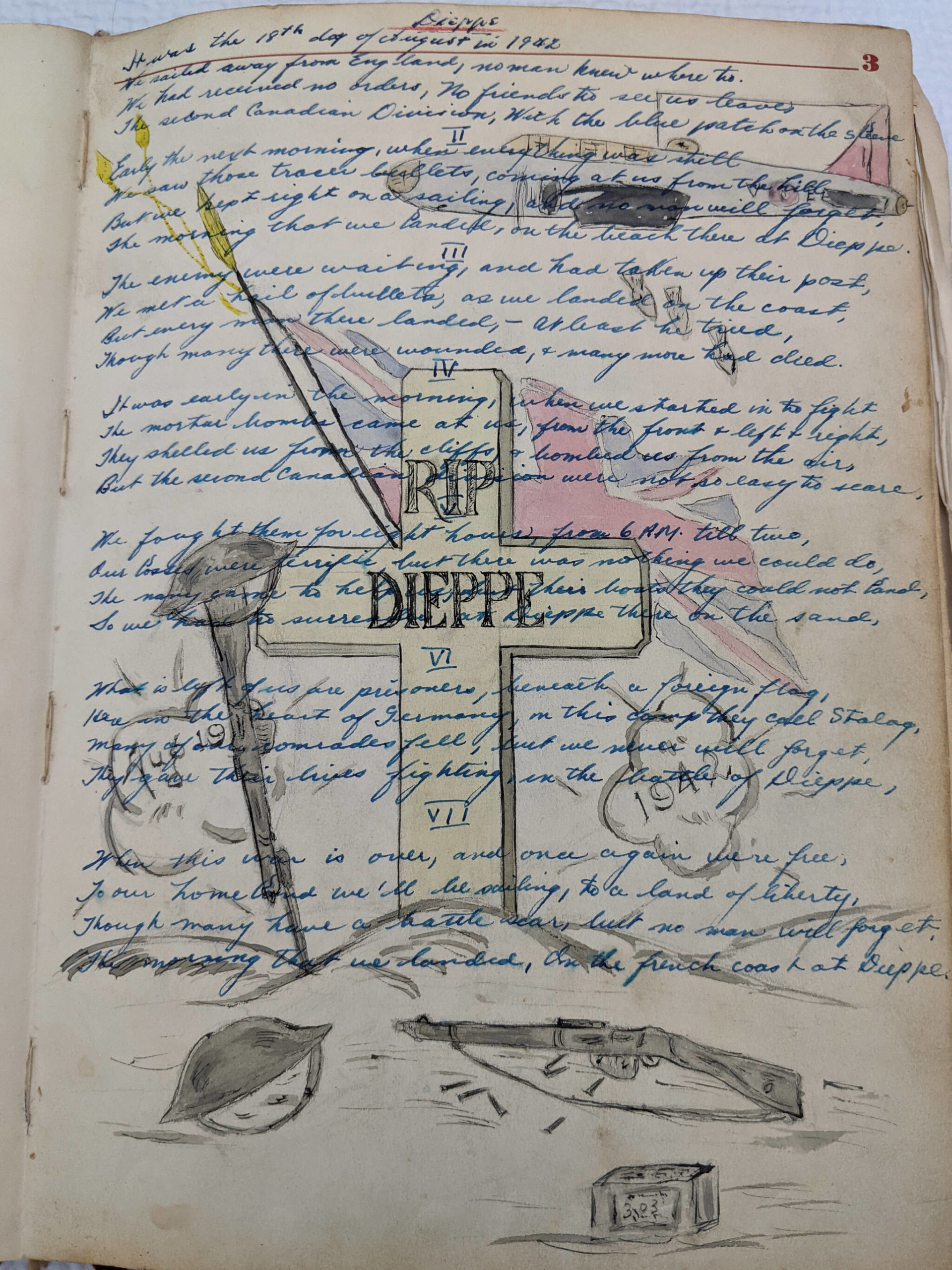 What Price Dieppe, page 13
Did you ever hear of Dieppe boys
It's a little town in France
The brass hats sent us in there
To make the "Jerries" dance.
It was our first taste of action
As we waded in and fought
But Jerry was expecting us
And our fighting counted naught.
We kept right on a-going
The blood and limbs flew high
We saw our comrades falling
And we had to let them die.
There must have been a reason
For slaughter such as this
Surely someone will account for
The faces that we miss.
So much for Dieppe boys
And our plans that hit a snag
While we wait for the armistice
In a lonely old Stalag.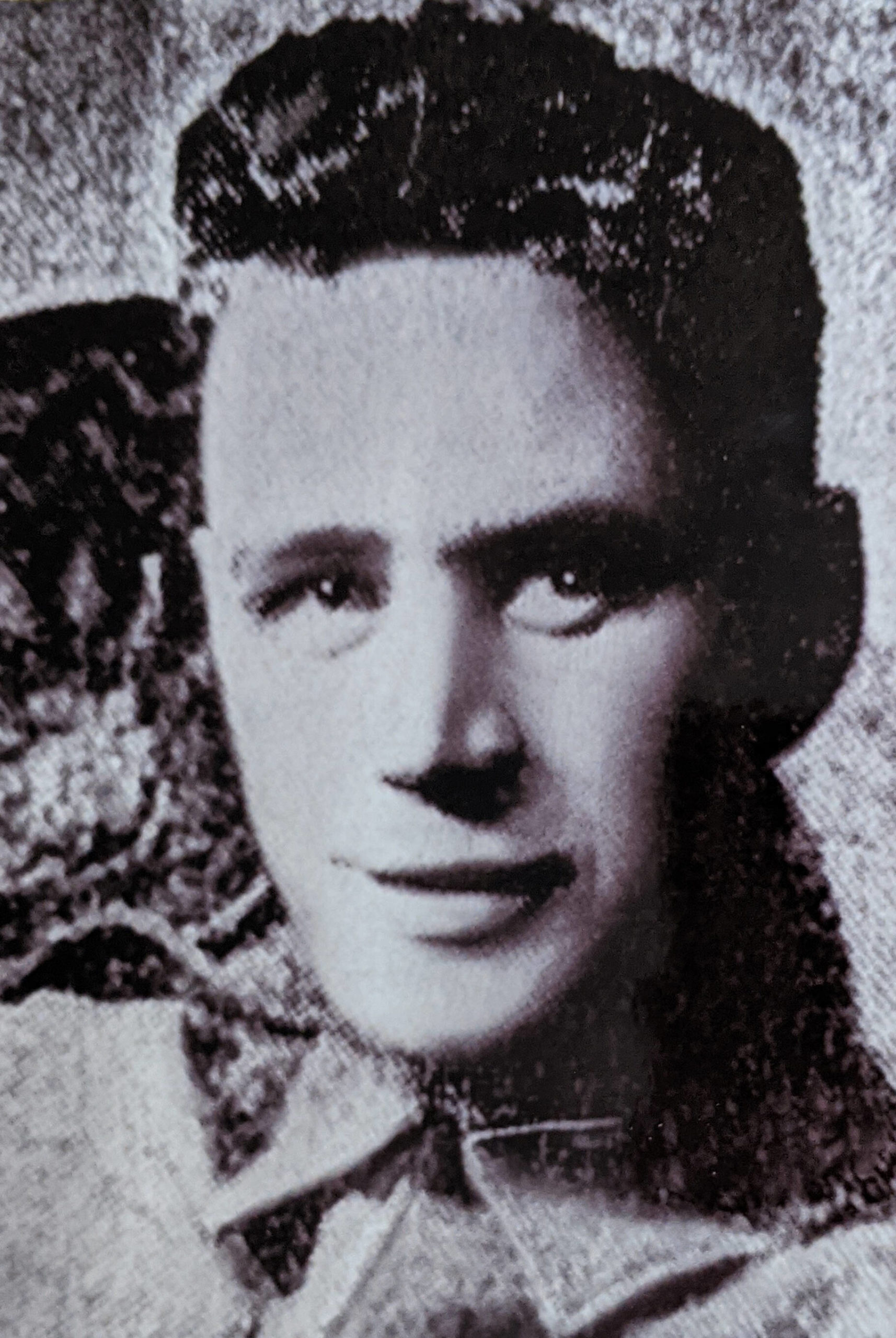 …
After the war, Moody would describe the mistreatment he and his fellow comrades suffered at the hands of the Germans in a submission to the War Claims Commission.
Moody was severely wounded in his left arm during the fighting at Dieppe, and recounted how he was barely given any treatment beyond a simple dressing. He said the lack of medical attention led to the loss of two of his fingers.
He described Canadians being forced marched with no food other than the "odd slice of bread from (a) Frenchman." Three times they were packed into overcrowded box cars with no toilets, ventilation and little food or drinking water.
When the soldiers arrived at the POW camp, their captors – which Moody believed were Waffen S.S. soldiers – shackled the prisoners, causing "great distress" to his wounds.
He described being chained together with other prisoners and forced to stand in the cold for hours with very little clothing.
The soldiers remained chained together for over a year, according to his claims to the commission.
The camp was liberated on Jan. 15, 1945, and Moody was discharged several months later due to his wounds.
Moody was born in England, grew up and enlisted in Winnipeg, but moved to Mission in 1948. He bought property and raised a family here, passing away in 2002.
…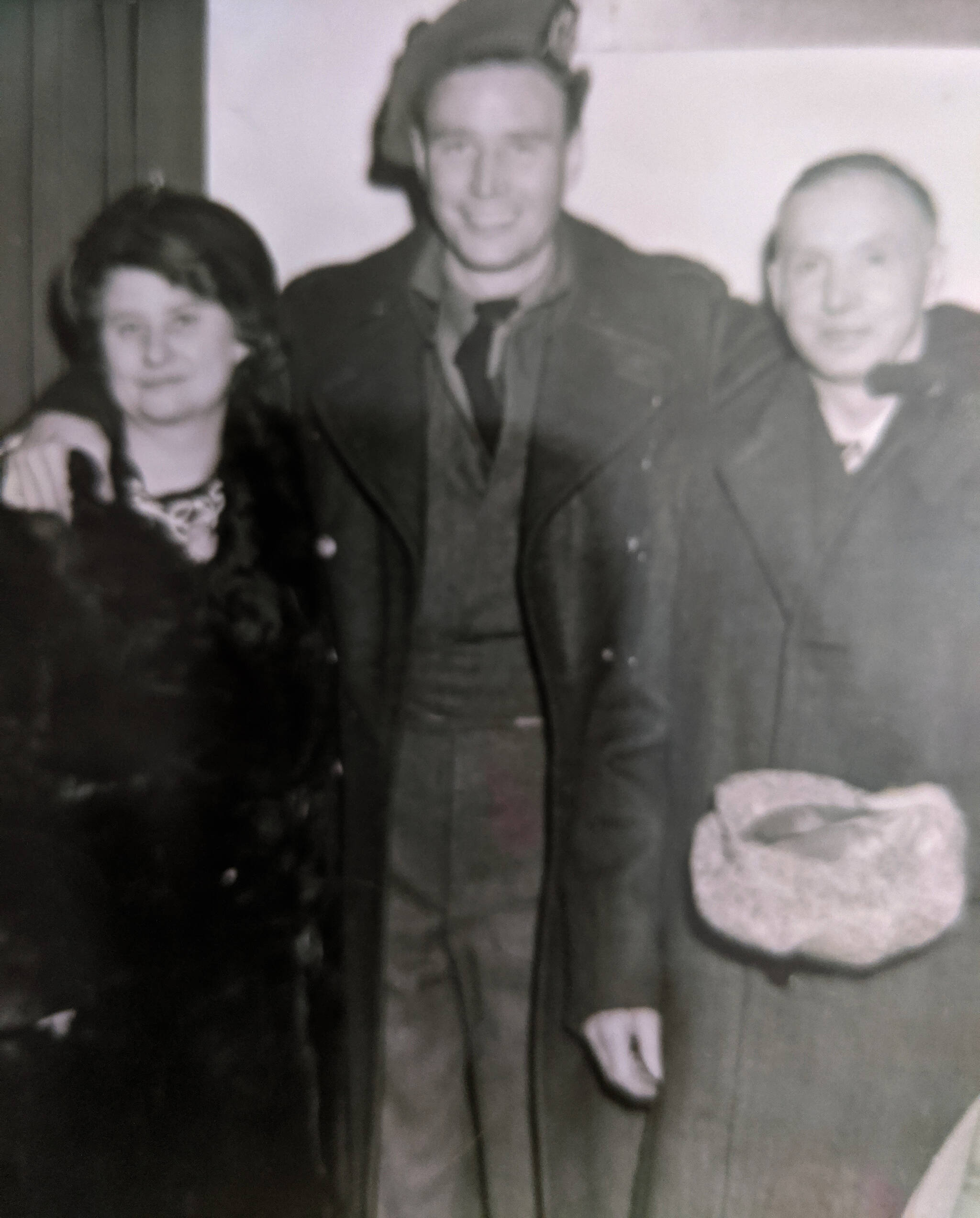 Daily Journal Entries
Sep. 2, 1939 – Enlisted at Winnipeg
May 24, 1940 –Left for Camp Shilo
Oct. 13, 1940 – Left Shilo for Quebec
Dec. 12, 1940 – Left Quebec
Dec. 13, 1940 – Arrived in Halifax
Dec. 16, 1940 –​ Sailed for Eng
Dec. 25, 1940 – Docked at early Xmas morning, Xmas dinner terrible, boys thought it was boiled seagulls, tough as leather!​
Dec. 27, 1940 – Arrived at Grenoch Scotland
March 21, 1941 – Inspected by King and Queen
July 1, 1941 – Left for S. Coast where we spent 6 weeks
Aug. 15, 1941 – Went to C Camp
Aug. 25, 1941 – Went to Farnborough
Oct. 15, 1941 – Returned to coast
May 15, 1942 –Went to Horsham
May 19, 1942 –Went to Isle of Wight
July 3, 1942 – Boats
July 12, 1942 – Returned to Horsham
Aug. 1, 1942​ – Went to F worth
Aug. 18, 1942 – Prepared for raid to be made on Pourville France. Left from Newhaven
Aug. 19, 1942 – Raid began for us, 05.40 hrs. Captured 14.00 hrs. wounded in arm
Aug. 19, 1942​ – Went to Dieppe hosp. put in box cars
Aug. 20, 1942 – Arrived at Rouen France
Aug. 21, 1942 – All day at Rouen hospital
Aug. 22, 1942 – Boarded box cars
Aug. 23, 1942 – Arrived at Camp in Vernicul France
Aug. 28 to Sep. 1, 1942 – Travelled in box cars labelled 40 men or horses, through France, Belgium part of Holland into Germany to Stalag VIIIB. Put in New Lazarette (the hospital)
Nov. 2, 1942 – ​Dismissed from hosp
Oct. 8, 1942​ – Canadian prisoners were tied up with rope as a reprisal
Dec. 2, 1942​ – Ropes replaced by chains
Sep. 25, 1943 –​ Chains removed due to the prisoners from Italy coming in
Oct. 18, 1943 ​– Rechained
(Remainder of pages cut out by German gaurds)