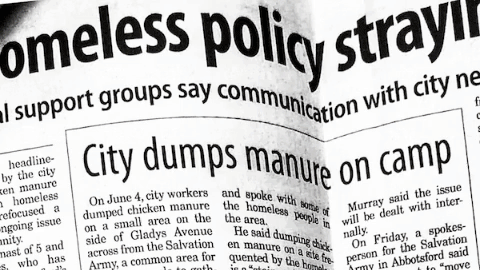 How to help:
It's the giving season, and as we roll out our series on Abbotsford's homeless population, many people may be wondering: How can I help?

Click on the image above to be taken to our "How to take action" page for more information.
This is part of Finding A Way Home – tales of love, connection and relationships on the streets.
Two hundred and thirty-three: That's the number produced by this year's point-in-time homeless count in Abbotsford, recently released by the city.
That number indicates a drop of 15 per cent, from the 274 counted in a similar survey last year, which appears to be an improvement.
But Pastor Jesse Wegenast, harm reduction co-ordinator with 5 and 2 Ministries, says one should take the point-in-time counts with a grain of salt, due largely to the time constraints on such studies.
Wegenast's issue is not with those conducting the count at any level, but with the methodology itself.
"The current methodology for the homeless count has been executed as well as possible, and the data that is produced has been the best possible data based on the methodology. I believe that there is room to improve on our current methodology," Wegenast says.
The issue is the fact that the count spans only a single day, which Wegenast says "invariably" tends toward artificially low counts.
And by focusing on one day in March, the count may be fickle just depending on the weather.
"Some of the times in March … the weather is beautiful and sometimes it's zero degrees. And that will skew the count right there, because we'll have more people in shelter if it's colder and more people sleeping out if it's warmer," Wegenast said.
"However, transitioning to a new type of count is difficult, and the reason that it's difficult is you're no longer comparing apples to apples when you look at each count. So there would have to be some type of transition period when it comes to how we use the count to shape policy."
Wegenast points to some of the ways the count has been done using more effective methodologies, even in Abbotsford.
For the city's first homeless count, one was done in February and another in August, accounting for the different behaviours in different weather.
As well, he points to keeping track over time, taking advantage of services like the Salvation Army, which feeds many within Abbotsford's homeless and at-risk population.
---
Dustin Godfrey | Reporter