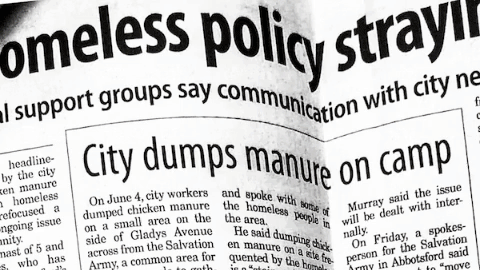 How to help:
It's the giving season, and as we roll out our series on Abbotsford's homeless population, many people may be wondering: How can I help?

Click on the image above to be taken to our "How to take action" page for more information.
This is part of Finding A Way Home – tales of love, connection and relationships on the streets.
Working on the front lines of homelessness is tough work. Burnout in the non-profit sector is high, and the work can be traumatic, particularly in the throes of the overdose crisis.
For many, the energy to do the work comes from the bonds they form with those around them.
As part of our series on connection and relationships on the streets of Abbotsford, we spoke to several people involved in the fight against homelessness to talk about the bonds formed on the front lines.
Here's what they had to say:
Mena and Marcie – FLOH
Amanda and Wendy – Drug War Survivors/BEAP
Nick and Michele – Drug War Survivors
Megan and Doug – Hearthstone Place
---
Dustin Godfrey | Reporter