An upcoming vinyl record fair may very well be the first of its kind in Chilliwack.
The Fraser Valley Record Fair, organized by record collectors Ryan Wugalter and Evan McDowell, will take place on Sunday, Nov. 19 at the Princess Armouries in Chilliwack.
They're calling it the Fraser Valley's largest LP, CD and music memorabilia fair, and a "must-attend event for vinyl junkies and music enthusiasts."
Approximately 25 vendors from across the province will be there, including record stores and private collections from peoples' basements.
Prices will vary greatly from boxes full of $2 records right up to rare collector items that could sell for hundreds of dollars.
"It's going to be the best record store in town for one day only," Wugalter said. "If you are a music fan, you don't want to miss it."
When asked why he loves vinyl, McDowell said he appreciates feeling compelled to listen to both sides of a record.
"You're kind of forced to listen to the whole thing. I think with digital music that gets lost because it's so easy to make a playlist and switch between different songs halfway through."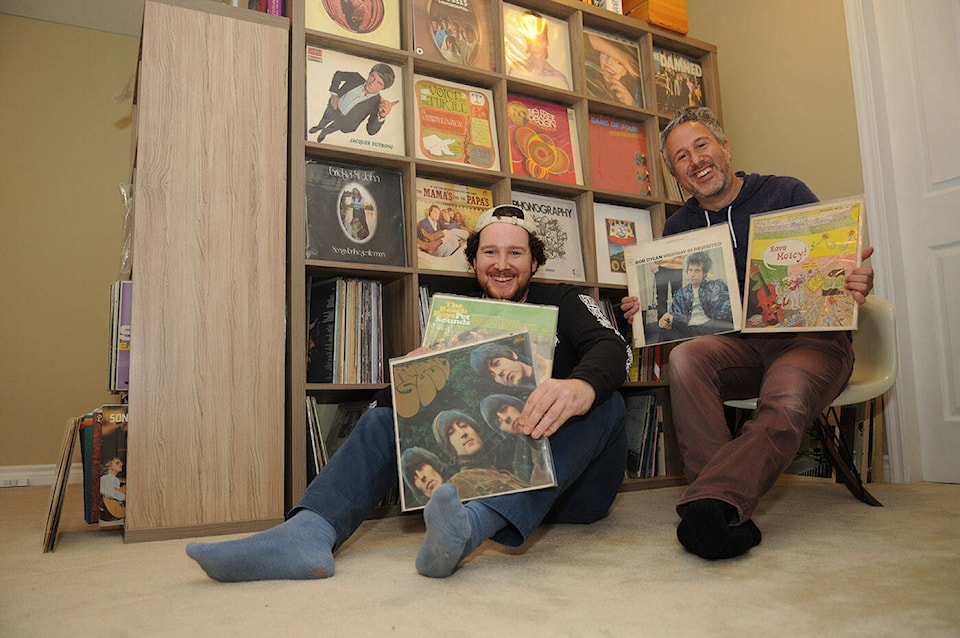 Wugalter said he loves the "tactile nature of (records), the bigger artwork, and the lyric sheets."
The two have known each other for decades and are both teachers in the community. Wugalter's mother was the manager of Chilliwack music store CD Plus where McDowell worked.
Wugalter got into vinyl because, at the time, records were inexpensive and he could afford to buy a lot of them.
"Vinyl was something you could get for really cheap because CDs were super expensive. So, my love of vinyl came from being this sponge for music and I wanted to listen to as much music as possible in the pre-internet age."
Both men moved away from Chilliwack years ago but later returned home.
Wugalter has organized a few record fairs in the past. When he was living in Victoria, he put on Vinyl Supernova, a record fair that started around 2014 and ran for a few years.
When he moved back to Chilliwack he decided to start up a fair here. Wugalter even put together a jingle to promote the Fraser Valley event where he and his six-year-old daughter can be heard singing together.
"Who knows what you will find? But it's sure to blow your mind at the Fraser Valley Record Fair," they sing.
The Fraser Valley Record Fair runs Sunday, Nov. 19 from 10 a.m. to 4 p.m. at the Princess Armouries (45707 Princess Ave.). Admission is $2 at the door. No early birds.
There is no ATM on site, so people are reminded to bring cash.
Food truck Just Jerkin Around Catering will bring authentic Jamaican food to the festival.
Contact fraservalleyrecordfair@gmail.com for more info or find them on Facebook.
Looking for more events taking place in and around Chilliwack? Check out What's happening Chilliwack in our community section