When the leaves start to paint the landscape in golden hues, Kamloops becomes a playground for outdoor enthusiasts and food lovers alike. This season, the city comes alive with a symphony of colours and exciting outdoor adventures.
Hiking Into Autumn:
Hiking trails beckon with the promise of golden vistas. Explore the untamed beauty of Kenna Cartwright Park or embark on a journey to Battle Bluff for breathtaking fall foliage.
Fall Casting:
Anglers, this is your prime time. Cast your line into crystal-clear waters teeming with salmon and trout, and let the thrill of the catch be your autumn soundtrack.
Culinary Delights:
The culinary scene in Kamloops bursts with seasonal flavours. Savour the warmth of fall with a glass of locally crafted wine, cider or beer at our local hot spots.
Wine Tastings:
The Kamloops Wine Trail offers a delightful fall adventure for wine enthusiasts. Sample award-winning wines and immerse yourself in the winemaking process amidst the serene autumn atmosphere. Gather friends and family for an unforgettable wine-tasting experience.
Local Harvests:
As autumn unfolds, local farmers' markets come to life. Dive into a cornucopia of fresh, seasonal produce, artisanal cheeses and homemade treats. Kamloops' restaurants embrace the flavours of fall, crafting menus that celebrate the region's bountiful harvests.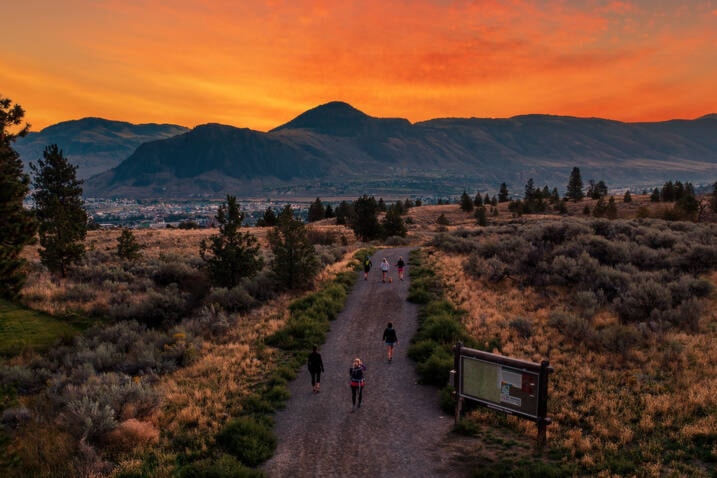 This fall, Kamloops invites you to explore the thrill of outdoor adventures and the rich flavours of the season. Whether you're hiking through the gorgeous bluffs, landing the big one, or toasting to the season with fine wines, this city offers an abundance of fall experiences that will leave you enchanted. Come join the festivities and create cherished memories in the heart of Kamloops.