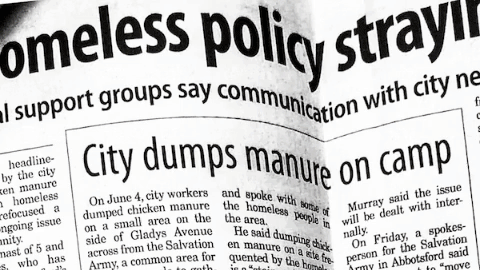 How to help:
It's the giving season, and as we roll out our series on Abbotsford's homeless population, many people may be wondering: How can I help?

Click on the image above to be taken to our "How to take action" page for more information.
This is Part Three of Finding A Way Home – tales of love, connection and relationships on the streets.
Colleen Aitken owns her nickname. The 63-year-old is affectionately known by many of her peers as "Mom," and she wears that title like a badge of honour.
When talking with Aitken, the title feels right. She speaks with a certain sense of optimism – a parental tone that feels warm on a rainy winter day. Her presence commands a matriarchal respect, and when speaking to others in Abbotsford's homeless community, that respect is clearly given.
One peer says if anyone were to give Aitken trouble, that person would be met with a whole lot more trouble.
But Aitken pushes back against that, to some degree.
"If something was going to happen, I'd have to deal with it myself, because they're not there, right?" Aitken says, adding that she can take care of herself in any verbal dispute.
"If I was being called names all the time and belittled and things like that, my spirits might not be quite as bright," she says before quickly changing her mind: "Actually, I know I'd deal with that. They'd get it right back – probably tenfold."
Aitken's history with the title of "Mom" to more than her own children goes back decades, beyond her experience with homelessness.
"The one reason I started getting called 'Mom' out here is because quite a few people that I know on the street I've known since they were little kids," Aitken says.
That's because her three children were each five years apart, meaning they all had different age groups of friends. And the Aitken household was frequented by her children's peers.
"As the kids got older and they hit their teens and that, my son's friends, even to this day they still come to talk to me if they've got girl problems and things like that," she says.
"Over the years, I kind of just fell into it for some reason. The kids that were friends with my kids, they started calling me 'Mom' every time they see me, and before long everybody started calling me 'Mom.' Mind you, I've got some, as I call them, 'little ones' that could be in their 80s," she adds with a laugh.
But one becomes a matriarch through more than wisdom and advice. A mother is a sentinel that keeps an eye on those in her care, and Aitken is no different.
"Over the years, because I've been on the streets, especially out here, I kind of watched over the … working girls and a lot of younger teenage kids that have run away from home. And I'll tell you, it's something real special," Aitken says.
"When you get some young man coming back to find you a year or so later, and all I did was spend a prolonged time talking to them in pissing rain. That really touched my heart the first time that happened."
When it happened, Aitken says that individual was headed to Vancouver Island to go back to school, but stopped in Abbotsford to thank her.
"He said our little talk that night helped him change his mind on where he was headed and where he ended up going."
Colleen Aitken has been homeless for over 20 years. With her experience, she says she's been able to help some who are newly homeless, earning her the title of "Mom" by many of her peers.
Dustin Godfrey/Abbotsford News
****
Before Aitken became homeless, she was a business owner. She ran an upholstery business "many eons ago," before taking schooling to become a florist. When she graduated, her husband at the time bought her a flower shop in Salmon Arm.
"Before I knew it, I was training the high school students. They'd come in for two-week practicums. They're lots of fun," Aitken says. "It just took off. But when that marriage started to fall apart, my business did, too."
At that point, Aitken was trying to raise her two sons on her own, but she was struggling to keep up and ultimately move back to the Lower Mainland.
"It was just too much mayhem that I couldn't justify my job, because of the turmoil in my personal family life. I just couldn't do what I wanted to do. I wish I had that business now, though," she says, adding that she loved that work.
"Who wouldn't? I was like a kid in a candy store. I had a whole store to play with, and I specialized in doing weddings. And that's a lot of fun. You've got to get inside the bride's mind to see how she's seeing it. Because if you can make her happy, everything goes so smoothly."
Aitken's wedding work went international, too, she says – all around the British Isles, across Canada, and in the U.S., as tourists would flow through her flower shop.
She was able to keep a roof over her and her children's heads as long as they were in her custody, she says, and it wasn't until she split up with her second husband that she spiralled into homelessness.
"I had never ever experienced homelessness until I split up with my second ex out in Chilliwack. And it was full-steam ahead," Aitken says.
Since then, she's been homeless off and on for nearly 20 years.
Dustin Godfrey/Abbotsford News
****
"I prefer outside to the shelters," Aitken says, noting the fresh air and the general freedom that comes from the outdoors.
However, she will often spend her nights couch surfing or in shelters during the winter, to avoid the elements, which can be hazardous to anyone, let alone a senior.
"I've got a lot of friends that live out here, too, that will say, 'Just come and stay.' I get tired of couch surfing, and I don't like to impose on anybody. I just feel more comfortable out here, and then I'm not imposing on anybody," Aitken says.
Earlier this winter, she was staying at the seniors' winter shelter put on by 5 and 2 Ministries, which Aitken says she has "nothing but respect and much love for." Now she has another more permanent space that she's able to stay at, put on by SARA For Women.
But with 20 years' experience on the streets and a wide web of connections, Aitken has become the go-to woman for information or help on the streets. But it also means she has been the first line of contact in the case of tragedy "because there's been a lot of deaths and girls disappearing and stuff. "
"When a girl has disappeared, (people) will come and talk to me and ask if I've heard where they might be or whatever. And I can ask around," Aitken says.
"I've even had parents crying their eyes out, showing me a picture of their child that they hadn't seen in six months or a year, asking if I could help. How they found out I'm called 'Mom,' I have no idea."
Those don't always end in tragedy – she spoke of one woman who came to her, whose daughter, Aitken was able to confirm, was still safe.
"All I could tell her was what town she was in. That was enough. She knew she was OK," Aitken says.
"It is very tough, especially when you've got a parent just bawling their eyes out, and they don't know if their child is dead or alive or where they are. It's very tough. As much as I try not to let it really get to me, you always take a bit of it. And then there's times where it does suddenly just all pile up. That's when I'll just go and disappear for a few days, kind of get my thoughts back."
But Aitken says she always comes back to that role – the Mom of Abbotsford's streets. It's something she says even local authorities recognize.
"If they came across some other lady that was sleeping somewhere, they'd wake them up, tell her to come and see me, tell them where I was. 'Mom will have blankets, probably something to eat, too, whatever. She'll keep an eye on you. You go see her.' "
---
Dustin Godfrey | Reporter