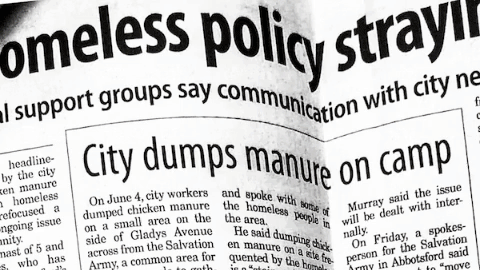 How to help:
It's the giving season, and as we roll out our series on Abbotsford's homeless population, many people may be wondering: How can I help?

Click on the image above to be taken to our "How to take action" page for more information.
This is Part Six of Finding A Way Home – tales of love, connection and relationships on the streets.
Mayor Henry Braun doesn't like to talk about the chicken manure incident.
In an interview with The News in early December in a fifth-floor meeting room near the mayor's office, he avoided uttering the words "chicken" and "manure," only referring to it as "one incident" that was "not a high point for the city dealing with homelessness."
While "not a high point," it may be seen as a turning point.
On June 4, 2013, city workers dumped chicken manure in an area on the side of Gladys Avenue, across from the Salvation Army, where the homeless commonly set up camp. At the same time, local homeless individuals reported having found their tents slashed and the insides sprayed with mace.
Then-mayor Bruce Banman called the incident a "stain on Abbotsford's reputation," and later that year a human rights complaint was lodged against the city. A second human rights complaints was filed that year over the city's ban on harm-reduction services like sterile needle exchanges and supervised consumption sites. (The bylaw was repealed in 2014.)
The manure incident and the negative interactions with police provided ammunition for a lawsuit launched in 2014 by Drug War Survivors to overturn the city's bylaw against camping in public parks.
That legal battle ended in 2015 with the homeless being granted the right to set up tents overnight in all but three city-owned parks.
And in the years since, the homeless population's relationship with the city has moved gradually but substantively in a more positive direction.
****
Homelessness in Abbotsford snapped into the public dialogue in the mid-2000s, after a homeless count in 2004 appeared to shock the city's perception of its homeless population.
"What we know after doing this now, for the fourth time in a decade, is that since 2004, homelessness is not just a Metro Vancouver issue," Ron Van Wyk, homeless count research co-ordinator with the Mennonite Central Committee, told The News in 2014.
In the archive room at The Reach, there's a folder of newspaper clippings and prints of online articles related to homelessness in Abbotsford. Sifting through the folder, historical hot spots become apparent, as the issue fades in and out of the public consciousness.
You might see a smattering of articles sprinkled over a few years, then a concentration of numerous articles on the issue, often centered around a certain event or proposal.
In 2006, it was Compassion Camp, a homeless encampment set up on a city-owned site off Highway 11. Then-mayor George Ferguson, at the time, asked city police to refrain from dismantling the camp.
"I think it was senseless to keep moving these people around, to go where? It's a waste of time for police and public works. We were going nowhere," Ferguson said in an April 2006 Abbotsford Times article.
The camp didn't stick around forever, but some residents were allowed to stay while they attempted to get permanent accommodations and/or work.
Over the past decade-and-a-half, the bulk of the news around homelessness has been of conflict over proposed shelters and supportive housing. Whether from council or from the community in Abbotsford, several proposals have been met with opposition either from neighbours or from council since the latter 2000s.
For years, projects like these had been the most visible conflict over homelessness – with council chambers and public hearings the theatre for that conflict. But it was when the chicken manure incident brought the conflict into the legal arena, garnering national attention, that the city ultimately re-evaluated its relationship with the local homeless community.
Mayor Henry Braun says the City of Abbotsford has made major strides in improving its relationship with the local homeless population over the past half-decade.
Dustin Godfrey/Abbotsford News
****
Braun, who was elected mayor a little over a year later, spoke briefly on that incident with The News earlier this month, but largely skirted talking substantively about the incident itself.
"I addressed that when I became the mayor. I wasn't happy about it. First of all, I wasn't the mayor, for one, but I was on council," Braun says.
"That incident is not reflective of this community. And the city received a black eye that I don't think it properly deserved. This is a very caring, giving community. In fact, I think we've been the most generous community on a per-capita basis in Canada for, I think it's got to be 12 or 13 years, now."
Nowadays, Braun says the city has improved its relationship with the homeless has "much improved" compared with the 2013/14 era:
"We've adopted a housing-first approach. And what that means is you get them under a roof and then connect them to the services that they need. And many of them, for the very first time, are having assessments. Mental health and physical assessments. What do they need? Because they probably go in six or seven different different directions, depending on what Fraser Health and the medical community see and find on our streets," Braun says.
Braun is referring to the co-ordinated intake and referral program, city hall's pilot program intended to connect the homeless and at-risk population with services and housing. Since the program kicked off in 2017, nearly 400 homeless and at-risk individuals have been in contact with the program.
That program was created after years of work, born out of the City of Abbotsford's homeless committees, the first of which began meeting in 2014.
"Five years ago, the city was not happy with where we were at regarding homelessness in our city. So we worked very hard to bring people together to provide services so that they can be housed and receive the wrap-around services that they need, and then eventually integrate them back into society."
The city has also now partnered with BC Housing and Abbotsford Community Services by providing land for Hearthstone Place on a 60-year lease. That project added 30 units of social housing that Braun noted had been turned down twice by previous councils.
"So that was the beginning," Braun says. "It's not a mandate for local government to get into housing, because we can't afford to do it out of property taxes."
On top of Hearthstone, over 80 units of social housing, part of a provincial modular housing initiative, are currently planned for two sites and expected to be finished and occupied by March.
Once those modular units are finished, the city will have more than tripled its supported housing stock to 345 units, from 101 in 2014. Over that same period, the city's shelter bed space has increased to 46 beds and 126 mats, from 26 beds and 40 mats.
Braun says the city now plays the role of advocate for resources from the province, BC Housing and Fraser Health.
"I have to commend the government – the previous government and this current government – because they have come to the table to provide resources so that we can provide a better life for some of the people who find themselves homeless," Braun says.
****
Harvey Clause, a homeless advocate with Drug War Survivors, says he's in favour of having some sort of a permanent camp for local homeless. In part one of this series, Clause noted there was security in numbers – not least of all from overdoses. And for the elderly, taking down one's campsite every morning to haul it around all day can be exhausting.
If any location has served as a quasi-permanent location, it has been Gladys Avenue. There, a cycle persists: Campers set up, and then they're cleared out, seemingly in perpetuity.
According to a BC Hydro document obtained through a freedom of information request, security and cleanups for the camps cost $60,000 per year – a cost of about $1.20 per household in Abbotsford.
"The need for BC Hydro to ensure campers are removed from the Gladys Ave property is motivated by safety, BC Hydro is especially concerned with the location of camps near our electrical equipment and rail corridor," the document states.
That $60,000 price tag doesn't include staff hours spent by the Abbotsford Police Department and city bylaw officers at the location.
City spokesperson Alex Mitchell said in an email statement that the city "does send bylaw officers to the Gladys Corridor at odd hours from Monday-Saturday to oversee the City-owned lands as part of their regular community schedule," but did not respond to a follow-up question on the amount of time spent around homeless camps.
A report to BC Hydro from security contractors describes areas where homeless camps were located by security personnel.
BC Hydro
In incident reports to BC Hydro, security officers do make note of interactions with city bylaw officers, cleanup crews and homeless individuals camping out at the location.
A look at one month picked at random, May 2018, produces over two dozen incident reports with a combined 297 pages of documentation. In that month, bylaw is noted to have been in attendance in six of the reports.
APD documents also suggest the department is taking a more hands-on approach to homeless camps than before. An organizational directive issued in July indicates that police – particularly bike patrol – are expected to regularly patrol Gladys Ave. to provide enforcement on homeless camps in the area.
That's a different tact from a 2016 training directive regarding homeless camps in parks.
"Should a member of the public call the Abbotsford Police Department to report 'unlawful' campers they should be advised to call bylaw office," the 2016 directive states.
The new directive states that the mission is "to conduct regular patrols of Gladys Avenue to ensure compliance of the no trespass signs, and utilize enforcement means where appropriate to ensure public safety."
The intent, according to the heavily redacted directive, is not only to remove those camping in the area, but "to provide consistent messaging that camping will not be allowed on posted land." Officers are also expected to inform homeless individuals of overnight shelters in the city.
On city-owned land, officers are expected to attend when a citizen complaint is filed, but the issue is largely dealt with by bylaw officers: unless there is a fire hazard, police officers are not to disassemble unoccupied camps, and cleanup of camps are to be co-ordinated through bylaw.
City of Abbotsford bylaw officers work down at the Gladys Ave. homeless camp in August, speaking with people still at the site, where BC Hydro crews cleared the campsite just weeks prior. Since then, the cycle has repeated numerous times.
Dustin Godfrey/Abbotsford News
****
Since the human rights complaints and legal disputes a half-decade ago, many homeless men and women agree that the relationship between the city and the homeless has improved. But they say there is still work to be done.
The News conducted a small survey with members of the Drug War Survivors, asking about respondents' relationships with police and bylaw officers, and how that has changed over time.
Roughly three-dozen surveys were filled out.
And while slightly more than half relayed negative interactions with police and bylaw, the responses to second question were more encouraging.
Of 25 people who answered that question, 15 suggested that there had been improvements in that relationship, while 10 said it hadn't improved.
A common theme is apparent in all of the answers: respect.
Those who feel the relationship is a negative one say they feel like they are not getting respect.
"They would move me around. It was like I wasn't [allowed] to be any place," one individual wrote. "Some officers are okay, and some go out of their way to make life shit."
Among those who say that the relationship has improved, some wrote that they feel more respect from bylaw and/or police officers: "The police are learning slowly, but by-laws need more training," one participant wrote.
Others point to their own actions that have improved the relationship.
"Since I quit having trouble with them, they leave me alone," one wrote.
Another wrote: "Over the years, I have noticed bylaw has become more understanding of us tenters. … They actually let me keep my tent up when I was very ill. They also have showed me pictures of some of my belongings when I was concerned about the safety of my belongings."
This is the final piece to our Finding A Way Home series.
---
Dustin Godfrey | Reporter