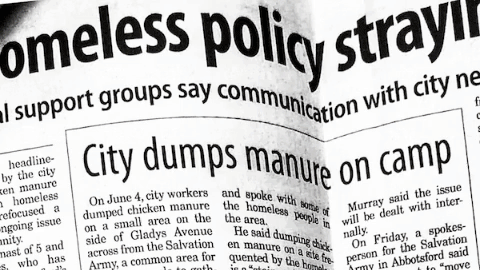 How to help:
It's the giving season, and as we roll out our series on Abbotsford's homeless population, many people may be wondering: How can I help?

Click on the image above to be taken to our "How to take action" page for more information.
This is Part Two of Finding A Way Home – tales of love, connection and relationships on the streets.
When Brad Wernicke and Becky Bird met, they weren't homeless. Bird had spent some time homeless a couple times in the past, but Wernicke had never been homeless before.
The couple has been together for a year now, but they've known each other for about 15 years.
After Wernicke broke up with his previous girlfriend, Bird began helping Wernicke with housework and "things went from there," Wernicke says.
"I really needed someone to be there for me as a friend. My life fell apart, and I had nobody that was there for me in a personal way," he says. "It was a bad scene, so I reached out to her. … It was really nice of her to be there, and I found she's been more stable than I was in that sense. She was working."
Bird moved in with Wernicke at that time, but the two weren't able to find a new place to stay in Abbotsford's airtight rental market before they ultimately wound up on the streets.
"Circumstances led to us being homeless, and it became increasingly more difficult to get by with assistance and stuff like that," Wernicke says. "Getting by, let alone finding a house. It's put a huge strain on our relationship."
Being together while homeless forces some ultimatums for the couple: namely, whether to be together at night on the streets or separated in the shelters.
"We were outside in the summer, but it's too cold to be outside now," Bird says.
"Staying in the shelter was good to get away from the elements, but it was really bad for us as a couple. I've been told that there are other couples that have difficulties, too, even married couples," Wernicke adds.
The two don't tend to display affection publicly, and because they don't have the privacy of a home, that often means it's hard to show much affection at all, Wernicke says.
But while they've felt some of the challenges of being homeless as a couple, there's a purely pragmatic benefit to being together, beyond the emotional ties between them – it provides them with some safety that they wouldn't have experienced otherwise.
"It definitely makes it easier," Bird says. "I've been homeless on and off for the last three years; I was single the first two. And I didn't sleep a lot because I didn't know who was out there. I never had a camp. I was always up and moving, so being with somebody means being able to actually go to sleep and being able to know someone's there in case there's some weirdo, because there's definitely a lot of them."
And Wernicke says the fear of being assaulted or otherwise attacked can do as much harm as an attack itself.
"Fear kind of robs you of your joy of living anyway," he says. "When you're living in a situation where you're always outside … it's not a good place to find security."
Having to look out for one another, they say, also makes them more accountable, and it makes them take fewer risks.
"I can't just go and disappear," Wernicke says. "I have her to look out for. It doesn't look good. I have to be there. … I may not be the one that's giving her all the resources that she gets, but I'm going to at least help her get access to it, right?"
Having Bird to look out for, Wernicke says he feels a sense of purpose.
"At least I've got her."
Still, if the two want to get off the streets, being a couple poses more barriers. With most transitional housing being segregated by gender, the two are forced into another ultimatum: find transitional housing and be separated or stay homeless and together.
"I could find a transitional-type dwelling, but it just seems too much like giving up, and I'm not willing to do that," Wernicke says.
---
Dustin Godfrey | Reporter