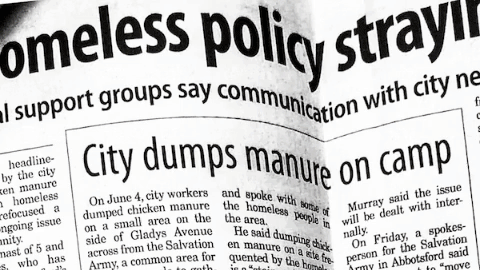 How to help:
It's the giving season, and as we roll out our series on Abbotsford's homeless population, many people may be wondering: How can I help?

Click on the image above to be taken to our "How to take action" page for more information.
This is Part Four of Finding A Way Home – tales of love, connection and relationships on – and off – the streets.
Whenever Zanzara Huebsch saw her son, Kevan Bardell, her heart took flight. And she's sure that he felt the same.
Huebsch's relationship with her son, who spent about five of his final years homeless on the streets of Abbotsford, wasn't without challenges. But Huebsch remembers her son as a shining light in her life – and in his stead, a darkness now lingers.
"On June 6, 2017 the battle was lost," Zanzara Huebsch says from a couch in her living room, reading from a writeup she posted online about Huebsch.
That was the day Kevan Bardell, Huebsch's son, died on Gladys Avenue. One of 52 to die in Abbotsford of an accidental overdose that year, Bardell was 36 years old.
With an ADHD diagnosis at seven years old, Bardell struggled to keep attention at school, and despite testing high on the IQ scale, he struggled to keep up and dropped out early.
Bardell had a mercurial temper, particularly when it was stoked by his brother – a sibling always knows the right buttons to push.
In part because of that temper, Huebsch sent Bardell to live with his father for seven years.
"And when he came back? Oh my goodness. He was changed. It was like he adapted, he'd grown up. He was who you see in this picture here," Huebsch says, gesturing toward a framed photo, perched on a fireplace mantle next to Bardell's ashes, of Bardell at 25 with the family's bird, Guinan.
"He's just bright and positive and happy. He came back to live with us and we said, 'Your job is to get a job' … and he did."
This photo is perched upon a fireplace mantle in Zanzara Huebsch's home next to a box of Kevan Bardel's ashes. In the photo, Bardel looks happy, a vast improvement from when Huebsch sent her son to live with his father for seven years.

Zanzara Huebsch/Submitted photo
****
Bardell had two traumatic incidents that Huebsch believes may have had an impact on his drug use. The first was a motorcycle crash at 16 years old that left Bardell with a burst fracture in his spine, for which he was prescribed heavy-duty painkillers.
"That may have been what started the drug-seeking behaviour. I don't know," Huebsch says, though she says she didn't notice any changes in his behaviour after the crash.
The second and more serious trauma came in fall 2013, when he was severely beaten.
"He wouldn't pursue whoever it was who beat him. It happened, he said, at a gas station. And nowadays there are cameras at gas stations. But I figure, now, he wouldn't because it must have been drug-related," Huebsch says, referring to any legal recourse Bardell could have followed.
"His face was smashed in so far that it blew his eyeball back and just shattered [the wall behind the eye socket]. And, of course, there was brain damage, when you receive a blow like that to your head. And it disfigured him."
After that attack, Bardell's life became more unstable.
Bardell wouldn't talk about the issue with Huebsch, but after that attack, he became "super paranoid." Huebsch recalls Bardell seeing surveying theodolites while driving with her.
"He was convinced those were cameras and they were set up for him. They were watching him; they were keeping track of him."
In photos of Kevan Bardel, played in a slideshow at his memorial, he's frequently smiling. His mother, Zanzara Huebsch, says he was happy and gregarious until a serious assault left him severely beaten. After that, his life took a downward turn.

Zanzara Huebsch/Submitted photo
****
Throughout those most troubled years, Bardell was always a welcome sight for his mother.
"Throughout all of this, I would take him meals. I would find him, take him meals, go visit him, spend time with him, wherever he was," Huebsch says. "I just kept hoping, hoping, hoping that he would turn around. I always hoped that he could come back and be who he was."
The two were typically "very connected," but after the gas station attack, Huebsch says there were longer periods when she never saw him. In May 2017, the two reconnected, and Huebsch says she could tell he was sober.
He was going to baseball games with the family, and "he seemed happy." The last time Huebsch saw Bardell, it was with his brother and sister. Huebsch asked her other son not to push Bardell's buttons, because he was still in a fragile state.
"So he was good … So all three of them were here with the grandsons. When they drove away, (Bardell) gave me a hug like he always does – or did. He said, 'I love you, Mom.' "
That was on May 28, 2017. Huebsch was planning to ask Bardell to come back home shortly after that, but he often refused such requests because there were too many rules.
"People told me I was enabling him, that I needed to practise tough love so that he would hit rock bottom and want to get off the street; he would want to have help," Huebsch says.
But when rock bottom came, Bardell never got back up.
He had applied to get into some new housing, but learned in the early days of June that his application was not accepted. And that's what Huebsch believes is the catalyst for such a drastic change in the handful of days between the last time she saw Bardell, on May 28, and when he died on June 6.
On June 9, police arrived at Huebsch's door. When she first saw them, she thought her dog had gotten out and caused trouble with another dog on her street. Instead, they asked her to sit down. She knew what that meant.
It took three days after he died for his body to be found.
Zanzara Huebsch looks out over Abbotsford from her home on Sumas Mountain at sunset. Huebsch says she hardly notices the sublime sunsets from her deck since her son died of an overdose in mid-2017.
Dustin Godfrey/Abbotsford News
****
"I think about him more now that he's dead than I did when he was alive. It just seems kind of twisted," Huebsch says. "Before, he was out there living, breathing, doing his thing, wherever it was. And there was hope. And now there's not. And now there's all the shoulda-coulda-wouldas."
Huebsch takes some comfort from an analogy proposed by her psychologist: Adam and Eve and the original sin. God knew the biblical couple was making the wrong decision, but more important was their free will.
"Kevan was an adult. You have to respect his choice. It was his life, his decisions," Huebsch recalls her psychologist telling her.
"It's hard – really hard – to wrap my mind around that and not blame myself. They say hindsight's 20/20, and I ask myself, 'Would I have really done anything differently?' And the thing is, I've always, with my decisions, tried to make them so that I would never have regrets. I know at the time, when we were going through this, I thought I was doing the right thing."
Overlooking the city from the side of Sumas Mountain, Huebsch's living room is ablaze with a winter sunset over Abbotsford on a December afternoon.
The view of the Fraser Lowland is stunning to begin with, but the orange and pink hues that fill Huebsch's living room and set the sky on fire imbue a feeling of comfort and warmth. These sublime sunsets over Abbotsford aren't an uncommon view from Huebsch's home.
But since June 6, 2017, Huebsch rarely notices those sunsets.
"What I'm going to say now doesn't mean I loved one (child) more than the other. But when I would see them after not seeing them for a week or so, each one would bring out a different feeling in me. With Kevan, my heart would be thrilled. I would always be just thrilled to see him," Huebsch says.
"He was always thrilled to see me. There was no doubt that he loved me. And whenever I thought I made a bad decision or had done him wrong for whatever reason, I would apologize and try to explain. And he would always say, 'Mom, it doesn't matter. It's OK.' "
---
Dustin Godfrey | Reporter