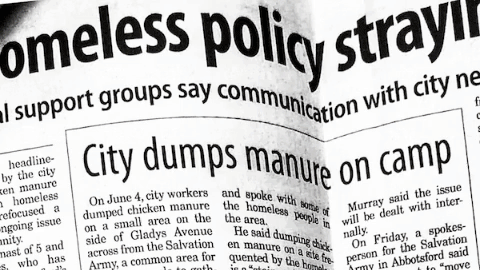 How to help:
It's the giving season, and as we roll out our series on Abbotsford's homeless population, many people may be wondering: How can I help?

Click on the image above to be taken to our "How to take action" page for more information.
This is Part Two of Finding A Way Home – tales of love, connection and relationships on the streets.
"She's being obstinate," Gary Hull says, his brow furrowed in a combination of frustration and worry.
One of Hull's cats has jumped into the bush lining a brick wall beside the Salvation Army's Centre of Hope on Gladys Avenue. Spooked by the high-speed traffic along the road, often travelling well above the 50 km/h speed limit, Super isn't co-operating with Hull's attempts to woo her out of the bush.
Super's namesake is her tail – a pair of kinks make the tail spell an "S" not unlike the Superman symbol – but Hull jokes that the name was all too prescient.
"She's a great escaper. Why did I call you Super? I should have called you the Non-Escape Artist," Hull says to the four-year-old sleek black cat.
Hull waits for Super to calm down and come back to him as his two-year-old silver cat Precious crawls all over his shoulders, rubbing her face affectionately against his – left to right, right to left, around his collar and back down to the ground to inspect a bush before returning to Hull for some more attention.
When there's no cat on his shoulder, Hull is an expressive speaker. His hands are active, making exaggerated gestures as he tells stories of his pets and his past.
Gary Hull is an animated speaker, his hands bearing expressions that amplify his story, as he talks of his late dog, Save, named because he believes the dog, which he once mistook for a coyote, saved his life.
Dustin Godfrey/Abbotsford News
Precious hops back into Hull's arms, and a smile returns to his face. Caring eyes hold steady on the plucky feline, who purrs as she traverses the heights of Hull's shoulders. Throughout the interaction, Hull's fatherly love for the cats is palpable.
"The cat was born and (her chest) was concave," Hull says. "She's had a bronchiolar issue, and that's why I'm here at the Sally Ann, not camping out. The other thing is I'm in a little bit of a pond."
After an abnormally dry October, November rain came like it was making up for missed time, leaving Hull's campsite – far away from the city centre – flooded.
"It's been fine through all these heavy rainstorms we've been having over the past month or so," Hull says. But that changed after a heavier rainfall one Monday night.
"So the high-tide water table's up, and I got six or eight inches in this area that I'm at. I can't bail out my tent because it's like bailing out a boat that's only got half a hull. So that's why I brought the cats here. I've got a cot, and I could have slept there. But the cats."
****
The 57-year-old has been homeless off and on since he was 16. At that young age, Hull says he was convicted of theft and began what he calls "doing life on the installment plan," through the well-lubricated revolving doors of the criminal justice system.
After a number of cycles on and off the streets, Hull says he found a stray dog, which he ultimately named Save.
"He saved my life, by giving me responsibility, by going, 'Hey, don't worry about yourself, worry about the (dog).' And then it just got better."
He made an unsuccessful attempt to hitchhike back east, where he's from, before he found a motor home in the Lower Mainland.
"Within five months of when I got him when I was homeless … I picked myself up with that responsibility," Hull says. "It was great. I had to get up every morning. I was working at the time; I had a house. Then he passed away at my feet."
When that happened, Hull says he spiraled again. After having Save at his side for 11 years, Hull says the loss pushed him into a deep depression, to the point that his employer at the time sent the police to make sure he was still alive.
"That's how much it affected me, and, within six or eight months, I was homeless again, unemployed. So there was a connection there," Hull says.
****
Super – named for her crooked tail, which Hull says forms a Superman-like 'S' – is the more skittish kitty. After she's let out of the kennel, she bolts into the bushes, and it's some time before Hull is able to lure her out. Now on Gladys Avenue, Super jumps anxiously in Hull's arms at every passing car.
Dustin Godfrey/Abbotsford News
Now, he has the cats. Without them, Hull says he'd be further in the deep end. And that's part of a wider trend in his life – having cats, he says, has made him more responsible and take better care of himself, much like Save did years ago.
"I'm proud of myself for taking on that responsibility, and I will keep it. I don't want to give away the cats, just because I can't find a place. But in the back of my mind, it's like, 'Am I going to have to?' And it's the last thing you want to do."
Anyone who has pets and has had to find a new place to rent will know part of Hull's struggle: finding an affordable, pet-friendly place. That can force an ultimatum: leave your pet with the SPCA or stay homeless while you continue to look for a place to live.
While some might suggest taking a home over a pet, Hull says that would be asking a homeless person, living in a world that can be cruel to the homeless, to forever give up his or her best friend. Hull says companionship of a dog or cat can hold far more value than is immediately apparent.
"You don't know their life story."
---
Dustin Godfrey | Reporter