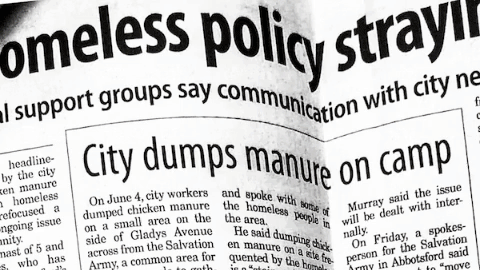 How to help:
It's the giving season, and as we roll out our series on Abbotsford's homeless population, many people may be wondering: How can I help?

Click on the image above to be taken to our "How to take action" page for more information.
The Ministry of Children and Family Development did not respond to questions about the foster system in time for the print version of Part Five of Finding A Way Home.
Here is what the ministry had to say:
"Youth in government care deserve every opportunity to successfully transition into adulthood," the ministry said in an email statement.
"Through a variety of government programs and partnerships, the Province offers resources that help young people from care moving into adulthood acquire additional life skills, education and financial supports. The Ministry of Children and Family Development (MCFD) is making programs and services more inclusive with greater flexibility to ensure youth have easy access to the rights supports when they are required."
The ministry also pointed to a $30-million investment over three years to enhance and expand the Agreements with Young Adults program to "meet the growing demand as more young people become eligible to participate in the program." AYA was altered to extend to those aged 27, increasing the maximum monthly allotment and making AYA a year-round program.
The ministry says it is engaging with youths formerly in the foster system to identify potential changes to assist in transitioning from the system and reviewing the AYA program.
Another $6 million was earmarked over three years to fund the Provincial Tuition Waiver Program, which would be available for eligible youths formerly in the system up to the age of 27 to get free tuition at any of B.C.'s post-secondary schools.
On foster homes, the ministry says, "All children and youth in care deserve to live in a home that meets their needs and provides safety and security. Placement stability is a key performance measure for the ministry, and is tracked and reported on annually."
However, the ministry said that some placement changes are necessary and can be beneficial to "ensure the right fit," but added "generally avoiding or minimizing moves while in care is an important goal."
MCFD provided some statistics as of March 2018.
During the first 12 months in care:
65% of youth in the system did not change placement
25% moved once
10% moved two or more times
"Situations where children and youth have moved two or more times in a year are flagged and the required care plans are updated to help stabilize and establish permanency."
In its email statement, MCFD said the province focuses on prevention and collaboration to keep children and youth from going into the foster system in the first place, adding that B.C. has the lowest number of children and youth in the system since 1995.
This year, around 6,450 children and youth are in the system in B.C., which MCFD notes is 400 fewer than last year, with over 4,100 of those Indigenous, a drop of 200 over the previous year. The ministry touted that as "the lowest number of Indigenous children and youth in care since 2014."
"After receiving supports, almost 90% of all children in need of protection are able to continue living safely with their families. This number is almost 85% for Indigenous children and youth."
---
Dustin Godfrey | Reporter