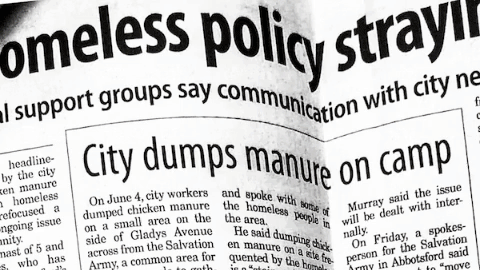 How to help:
It's the giving season, and as we roll out our series on Abbotsford's homeless population, many people may be wondering: How can I help?

Click on the image above to be taken to our "How to take action" page for more information.
This is part of Finding A Way Home – tales of love, connection and relationships on the streets.
Homelessness is far from new – as long as there have been homes, there have been homeless. But one of the challenges in fighting homelessness over all the years has been the myths surrounding the issue.
We spoke to Stephen Gaetz, director of the Canadian Observatory on Homelessness to talk about some of those myths.
1. People don't choose homelessness.
According to Salvation Army research, 40 per cent of Canadians believe homeless want to live on the streets or in shelters.
"That's a Canadian myth, which isn't true. But it's convenient because if people choose it, then we don't have to care, do we?" Gaetz says. "But the research doesn't bare that out. … We've done research. (Approximately) 95 per cent of people who are homeless reported they want housing."
2. They want to work.
"I had this at an event the other day, where people say 'people who are homeless need to be motivated, or people who are homeless need to want to get off the streets," Gaetz says.
"We've done lots of research on youth homelessness and found that whether a person's panhandling or involved in criminal activities. … Around 90 per cent of young people who are doing that kind of work would much rather have a regular job."
3. You can't just pick yourself up by the bootstraps.
"These myths really allow us to not care. It's all the homeless person's fault. Those are some of the really common ones. Or if someone wanted to get off the streets they could do it. They just need to pull themselves up by the bootstraps, that kind of thing."
But as one U.S. radio show, On The Media, points out, picking oneself up by the bootstraps is physically impossible – and Gaetz agrees.
4. Homeless are more frequently victims of crime.
"The reality of life on the streets is that it can be really brutal. People who are homeless are exponentially more likely to be victims of crime. … Yet we often frame them as the criminals. 'It's they who we need to protect ourselves from.' "
"These are very dominant views. It doesn't mean everybody thinks these things, but they're pretty pervasive. Poor-blaming and poor-shaming."
---
Dustin Godfrey | Reporter